There can be many reasons for a dog to shake its head, and it is quite normal for them to do so occasionally. For example, after they have been in water they shake from head to tail to help get dry more quickly. Or, if you are out in the summer evenings they may shake their heads due to lots of little insects flying around. However, if your dog is shaking their head a lot you definitely need to take heed.
---
What are some of the reasons why?
There are lots of different fundamental causes for lots for frequent and persistent head shaking. The most common reasons include:
An irritation that they just can't get rid of, such as…
a grass seed  – some grass seeds are terrible, particularly barley grass. With one end being particularly sharp, they can embed and actually travel deep into body tissues. As well as the ears, they are renowned for breaking the skin in between dogs' toes and then travelling up the leg. As you can imagine, this is extremely painful and can cause open sores that don't heal.
a build up of ear wax – just like people, this can affect dogs as well. For anyone that has got water in their ear during swimming, it's a similar feeling with a build-up of wax. You may have tried hopping up and down on one leg, with your head tilted to one side, in order to release the water. Similarly, dogs may shake their heads a lot to try and dislodge the wax.
an accumulation of insect bites – one or two individual bites is unlikely to cause a dog huge discomfort, but if they are bitten or stung multiple times the thin skin around the ears can quickly become red, inflamed and itchy.
some other foreign body
Allergies
The ears contain a lot of skin and any allergy that affects other areas of a dog, can quite easily affect the delicate tissues in and around the ears. Allergies are not curable, but they can be managed through specific medicines and treatments.
Infection
an ear problem could start as one of the above, but quickly generate into a full blown infection. Some dogs are more susceptible to these, whether through a weaker immune system or because they are just plain unlucky. Infections can be either bacterial or fungal.
Ear mites
Parasitic insects that are usually passed to your dog from cats. (Read more about ear mites here)
Growths in the canal
Some dogs can develop little polyps, or skin tags that are attached to the lining of the inner ear. Similar to a foreign body or excess ear wax, a dog may feel his ear is blocked.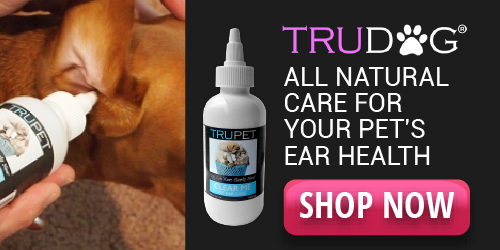 ---
What else should I look out for?
Apart from the shaking, there are other signs that your dog has an ear problem.
A discharge or horrible smell – this is a problem that needs addressing urgently, as either of these is a sure sign that there is an infection present and if left, your dog could become unwell very quickly.
Scratching at the ears persistently – if shaking alone doesn't give relief to your dog, they will quite often start to scratch at their ears in desperation to get rid of whatever is causing the discomfort.
Holding their head on one side – this indicates that they are attempting to either relieve symptoms of pain or pressure, and it's likely that this head tilting helps to some degree. This on it's own can also be a sign of a stroke or an inner ear infection, which is affecting the dog's balance, so please seek urgent vet attention in this case.
They react irritably or pull back when you touch their ear – just as we would if someone was touching a sore patch on our bodies
Swelling or redness of the ear – it's a good idea to perform routine inspections of your dog, running your hand over their bodies to feel for unusual lumps and bumps, so it's a good idea to check around their eyes and ears regularly too.
A loss of hearing – this may not be obvious at first, but if you know your dog well you are likely to pick up that their responsiveness to sound has lessened.
---
What should you do?
Firstly, and most importantly, DO NOT try and insert anything into your dogs ear – especially a cotton bud. The inner workings of a dog's ears are different to ours and they have a elbow-bend in the ear canal, which makes it very difficult to either see anything that is right inside, or use any tools to fish around. You could do much more harm than good by sticking anything in your dog's ears
The best thing to do is take your dog to the vet!
---
What treatment can I expect for my dog?
Vets have the right examination tools to check your dog's ears and can match the medicine or treatment with the condition. If there is any sign of discharge or odor, they are likely to take a small sample collecting it with a swab. This would then be sent away for further lab analysis to find out what type of organism is present – an important step because bacteria and fungi require very different treatments. Also, there can be massive variations in bacteria types as well, so any antibiotics need to be prescribed accordingly.
This is why you should not try and use previous medication – it may well be a completely different infection, and will need different medication.
Some examples of treatment your dog might receive are:
ear drops or ear wash
skin cream
treatment for ear mites
suggested change in diet
antibiotics or anti-fungal medication
If your dog's ear requires a major flush out, it's possible your vet will do this under anesthetic so as not to cause undue pain. Occasionally an ear problem might be more serious and surgery might be required.
---
What could happen if left untreated?
There are several things that could happen if any ear problems are left untreated.
A bacterial ear infection could develop into a more serious illness making your dog very unwell
Your dog could suffer hearing loss, either temporarily or permanently. After the sense of smell, a dog's hearing is their next most important sense, so any loss could be life changing for your dog
The incessant head shaking can cause an aural hematoma
---
What is an aural hematoma?
This happens when trauma is so sever to the delicate ear tissues that blood vessels within rupture. It can occur from vigorous and continues head shaking. It can also occur from constant scratching at the ears.
Either way, an aural hematoma is like an internal bruise. Swelling occurs as a result of a pooling of the blood or fluid, and sometimes a blood clot is present as well. This is likely to cause severe pain for your dog, and usually requires surgical intervention to remedy the problem.
---
Thanks for reading through these six common questions about why a dog shakes its head. Hopefully you've found the answers of benefit to you and your dog – or dogs, if you are lucky enough to have more than one!
If you would like to leave a comment, feedback or have any questions at all, please use the section below. I'd be happy to hear from you, Mara 🙂